Welcome SCH to PKF Mexico
PKF Mexico

Dearest Friends:
We are proud to inform, that as of May 13th of this year, the firm SCH Accounting and Consultants of enterprises, with headquarters in the City of Puebla, has joined to our national firm, PKF Mexico; being its CEO, C.P.C. Mariano Saavedra.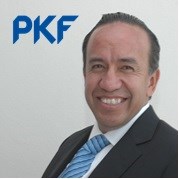 SCH is a very well-known and the most prestigious firm on regional level in the state of Puebla and surroundings; for over 35 years; has been providing several services, among them: Financial Audit, Internal Audit, Taxes, Social Security, Information Technology and Business Solutions.
Its Team is conformed by 6 partners and more than 65 professionals on the several fields of the firm.
With this Alliance, the presence of PKF in Mexico grow stronger, especially in the southeast region of the country and general in America.
Kindest regards,
Francisco M. Oviedo Martínez, CPA
Managing Director
See more News items